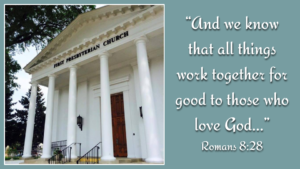 Our church leaders have determined that all worship services and church activities be suspended until April 5th due to health concerns regarding the coronavirus.
This Sunday's worship service will be broadcast live (10:30 AM) on FPC's YouTube Channel – "FPC Phoenixville". Then the recorded version will be available for "anytime" viewing.
For your convenience, Sunday's bulletin will be made available to follow along with the worship service.
Stay tuned for more details. In the meantime, please make great use of this sudden "time off" – stay calm, pray, be well, use common sense, be watchful of the elderly and vulnerable people, and remember to wash your hands.